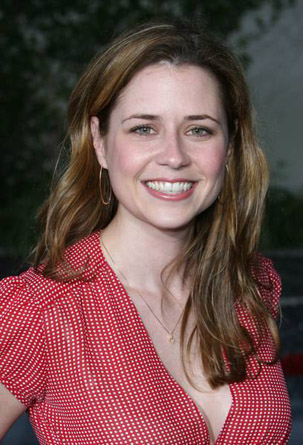 Jenna Fischer
(born March 7, 1974) is an Emmy Award-nominated American actress, best known for her role as Pam Beesly in the U.S. adaptation of The Office. For 2006, she and the rest of the cast from The Office received a Screen Actors Guild Award for Outstanding Performance by an Ensemble in a Comedy Series.
Fischer's 2007 films include Blades of Glory and Walk Hard: The Dewey Cox Story.
Fischer's television series credits prior to joining the cast of The Office include guest-starring roles on Six Feet Under as Sharon Kinney, That '70s Show, Cold Case, Miss Match, Strong Medicine, Undeclared, What I Like About You, Off Centre and Spin City. She also appeared on Bravo's Celebrity Poker Showdown, during the series shot in New Orleans, Louisiana.
Her feature-film credits include Employee of the Month, Slither, Lucky 13, The Specials and The Brothers Solomon. She co-starred as Katie in Blades of Glory. She starred in a music video for Willie Wisely's single, "Through Any Window", directed by long-time friend John Cabrera of Gilmore Girls. Fischer also had a starring role in a 2003 Instant Films short subject called The Girl's Guide to Summer, directed by Instant Film's cofounder (and Hollywood camera operator) Charles Papert. In December 2007, she appeared at Sacred Fools Theatre in episode 25 of Darque Magick, a serialized play written and directed by Jenelle Riley.
Fischer talked about her career aspirations in an April 2005 interview with the student newspaper, The Index, at Truman State University, her alma mater:
Honestly it would be great to get to play Pam for a long, long time ... ," she said. "I don't have real big aspirations to be a movie star. I would love to be on a long-running hit TV show. You end up playing a defining role.
In a more recent interview with MySpace, Fischer commented on her desire to focus on comedic roles:
I'm not sure I want to do a straight drama. I like finding the comedy in people and situations and characters. But I am interested in doing something heavier. I've been doing a lot of light comedy. I mean, there are so many different kinds of comedy. Once I finish exploring all of that, maybe I'll move to drama.