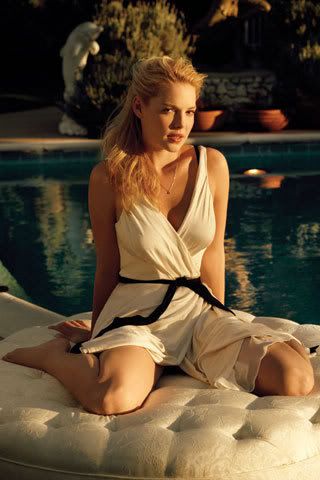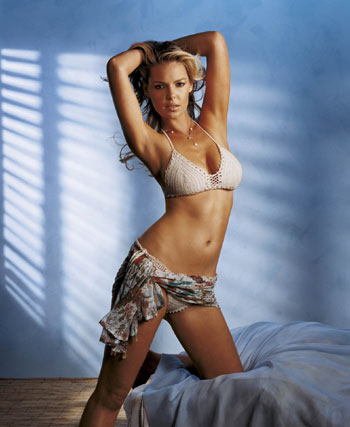 Katherine Marie Heigl
(born November 24, 1978) is an Emmy-winning and Golden Globe-nominated American actress best known for her roles in Roswell, Grey's Anatomy, Knocked Up and 27 Dresses.
When Heigl was nine, an aunt visiting the family decided to take a number of photographs of her. After returning to her home in New York, the aunt sent the photos to a number of modeling agencies, with the permission of Heigl's parents. Within a few weeks, Heigl was signed as a child model. Almost immediately, a client slated Heigl for use in a magazine advertisement where she made her debut. She was soon earning $75 an hour posing for Sears and Lord & Taylor catalogs. Television jobs soon followed, the first in a national spot for Cheerios cereal. She made her acting debut in the 1992 movie That Night. Heigl appeared as Christina Sebastian in Steven Soderbergh's Depression-era drama King of the Hill before being cast in her first leading role in the 1994 comedy My Father the Hero. During this time, Heigl continued to attend New Canaan High School, balancing her film and modeling work with her academic studies. Heigl left New Canaan High School after her sophomore year to pursue her career in Hollywood.
She then appeared opposite Steven Seagal in the 1995 action thriller Under Siege 2: Dark Territory. Despite an increased focus on acting, she still modeled extensively, appearing regularly in magazines such as Seventeen. She took the lead role in Disney's made-for-television film Wish Upon a Star in 1996. Also in 1996, Heigl's parents divorced and her mother was diagnosed with cancer. After her high school graduation in 1997, she moved with her mother into a four-bedroom house in Malibu Canyon, Los Angeles, and her mother became her manager.
In 1998, she co-starred with Peter Fonda in a re-working of the classic Shakespearian play The Tempest, set during the American Civil War. Later that year, she starred in the horror film Bride of Chucky.
In 1999, Heigl turned her attention to television when she accepted the role of Isabel Evans on the science fiction TV drama Roswell, a role that was expanded in the show's second and third seasons. Heigl had auditioned for all 3 female leads on Roswell before she was finally cast as Isabel.
Heigl was frequently featured in photo essays in magazines such as Life, TV Guide, and Teen as well as FHM. She appeared in the FHM and Maxim calendars, FHM's annual "100 Sexiest Women in the World", and was featured in the Girls of Maxim Gallery. In May 2006, Maxim awarded her #12 on their annual Hot 100 List as well as voted the 19th "Sexiest Woman in the World" by readers of FHM magazine. While Roswell was in production, Heigl worked on several films, including 100 Girls, an independent 2001 film, and Valentine, a horror film starring David Boreanaz and Denise Richards.
Heigl accepted a role in Ground Zero, a television thriller scheduled to be telecast that fall which was based on the bestselling James Mills novel The Seventh Power, in the spring of 2001. She co-starred as a brilliant and politically-concerned college student who helps to build a nuclear device to illustrate the need for a change in national priorities; the device ends up in the hands of a terrorist following betrayal by a fellow student. After the September 11, 2001 terrorist attacks, however, the film was shelved when its plot was considered inappropriate; it re-emerged in 2003 under the title Critical Assembly. After the attacks, Heigl recorded a public service announcement for the American Red Cross in an effort to help raise money for victims.
In 2003, Heigl appeared in three television movies. She returned to the horror genre with Evil Never Dies, a modern-day variation on the Frankenstein story co-starring Thomas Gibson. Love Comes Softly, for Hallmark Entertainment, found Heigl starring as Marty Claridge, a young, pregnant newlywed traveling west. (She reprised the role of Marty in the sequel Love's Enduring Promise the next year.) Heigl played Isabella Linton in MTV's modern revamp of Emily Brontë's Wuthering Heights. In October 2003, Heigl was cast opposite Johnny Knoxville in The Ringer, a Farrelly brothers comedy that was released in December 2005. Heigl starred as Romy in the 2005 television movie Romy and Michele: In the Beginning, a prequel to the 1997 film Romy and Michele's High School Reunion.
In 2005, Heigl was cast in what would become her most high-profile role, as intern Dr. Isobel "Izzie" Stevens on Grey's Anatomy, an ABC medical drama. The show, originally introduced as a midseason replacement, has become a huge ratings success. The same year, Heigl landed the starring role in the independent film Side Effects, about marketing and the pharmaceutical industry. In late 2006, Heigl was nominated for a Golden Globe award in the category, Best Supporting Actress in a Series, Mini-series, or Motion Picture Made for Television for her work on Grey's Anatomy. Also in 2006, she filmed Knocked Up, a comedy from writer/director Judd Apatow, starring opposite Seth Rogen, Jonah Hill, and Apatow's real life wife, Leslie Mann. Upon its June 2007 theatrical release, the film received largely positive reviews from critics, and proved to be a box office success. She has been on FHM's "100 Sexiest Women in the World" list twice as of 2007.
On September 16, 2007, Heigl won an Emmy for Outstanding Supporting Actress in a Drama Series for her role as Izzie Stevens. In her acceptance speech she acknowledged that even her mother did not believe she would win, and when her name was called, she had to be censored vocally by the telecast's producers, due to her saying "Shit!" when she reacted to the win. Earlier, she had corrected telecast announcer Rebecca Riedy, who had been given an incorrect phonetic spelling of Heigl's name, when she mispronounced her name as Hi-gell before the presentation of the award with Kyle Chandler for Outstanding Supporting Actor in a Miniseries or Movie.
Katherine Heigl was announced the Most Desirable Woman of 2008, according to AskMen.com.